Name: Yvette
Age: 14
gender: I have a vagina, figure it out =]
sexuality: Straight, bitch.
single/taken: Single.
Location: Eastside!!
PROMOTE US to AT LEAST 3 PLACES! Provide a link...we will check.
lostinyoum72 _pub_head_ tbsunday00
Favorite bands: Taking Back Sunday, Dashboard Confessional, Mae, Waking Ashland, Brand New, The Early November, Daphne Loves Derby, Yarbrough, All-American Rejects, Thursday, The Starting Line, Fall Out Boy, Sparta, My Chemical Romance, Copeland, and Coheed and Cambria.
Favorite Movies: Clueless, Breakfast Club, MEAN GIRLS, A Walk to Remember, American Wedding, and even though it's a tv show DEGRASSI lol!
What comes to mind when you hear "Panochas Ryders"?: Eee fo sho I see Shawn like that guy in malibu's most wanted in one of those ghetto cars that go up and down... that'd be hawt. Or fronchi's having sex... ewww!
Piercings/tattoos?: Only my ears.
Why should we accept you?: Cause it'd be real nice =]

OPINIONS ON
abortion: It's the women's choice but in my eyes it's very wrong. If you can't except consequences of what you're doing you should obviously not have sex or at least be protected.
sXe: It's cool I guess. I'm straight edge without trying... I won't be doing any drugs or sex anytime soon so why not? =]
piercings: Sexy if not too many.
tattoos: Same as above and it also depends if it's a purdy tattoo.
Lil john: Eee he's my boy.
hXc: It's cute... it's also become a major trend...
el paso: Fronchi country, eh enough said!
president: He's alright. I'm white so I voted for him of course.
techno: Okay I guess?
the "scene": We're all in our own scene.
AT LEAST 3 CLEAR pics. of yourself: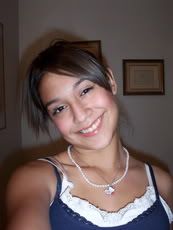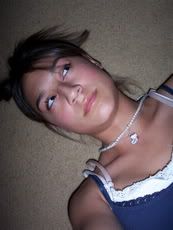 Last words?: Okay Shawn, are you happy now?!